Technology/
Development
Reliable technology and development capabilities
We build on technology and quality
Quality is Technology
We propose products that meet the needs
of the times and our customers
Shikoku Kakoh is a multilayer film manufacturer. We deliver films to our customers by applying all of our capabilities honed over the years, e.g., our co-extrusion multilayer technology system and structure-friendly clean environment made possible by combining raw materials knowledge and proprietary equipment, after-sales maintenance with extensive knowledge of customer sites, bag-making technology excelling in special processing, support based on our track record in various fields and applications.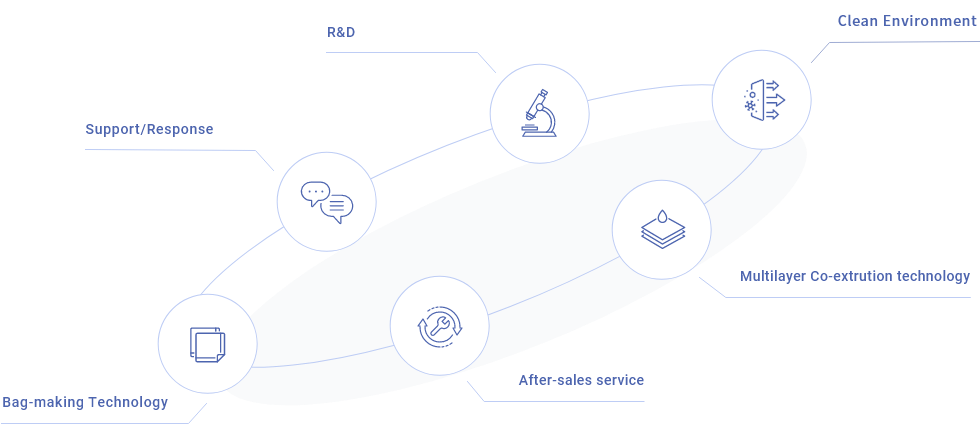 The performance and functionality required by customers in the medical field, clean film for semiconductor devices, and other fields vary widely, so we have developed a broad product lineup that meets the needs of each customer. Furthermore, with custom-made films that take advantage of our multilayer technology, we can solve customer problems general-purpose products cannot handle. We have received positive feedback for our genuine approach to manufacturing, and we are proud to have delivered over 23,000 cases annually (as of 2022) to Japan and other countries. Shikoku Kakoh products continue to gain popularity worldwide.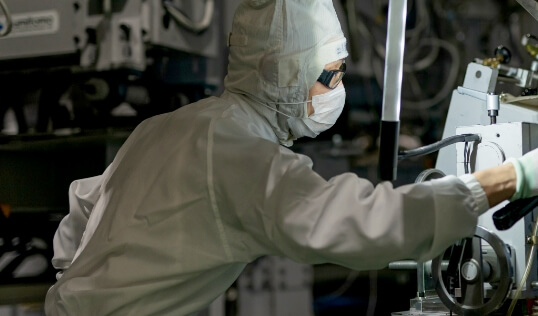 Technology/Development01
Research and development capabilities and manufacturing technologies based on years of knowledge and experience
We have mastered manufacturing technologies to realize development and commercialization for a wide range of fields and applications.
We have developed a wide range of products, including industrial packaging materials made of film materials that utilize electrically conductive and anti-static technologies and clean technologies to control invisible particles, outgassing, and ion contamination. Additionally, we produce food packaging that prioritizes high strength, gas barrier sealing properties, automatic machine compatibility, and more. We are leveraging these extensive development efforts to use and will continue to pursue new initiatives.
We can assist with the following issues:
Creating a film using

new raw materials

Finding a highly clean film

for the medical or semiconductor industry

Finding an anti-tatic film

that can be used in a cleanroom

Wanting to sign

a nondisclosure agreement and jointly develop a product

Finding bags or sheets

with a special shape

Wanting to prevent problems during

transportation (such as holes during frozen transportation)

Needing a film that won't leak odors

Wanting a film made of

additive-free materials
Reliable technology and
development capabilities
Our production, sales, and engineering teams
will unite toward uncharted territories
Based on the seeds of our long-term legacy of co-extruded multilayer technology, we are constantly striving to improve our co-extrusion multilayer technology and deliver products with new value to meet today's diverse market needs. With our proven track record, regardless of the field, and with a system that integrates manufacturing, sales, and technology as our weapon, we have a wide-ranging and precise development system.
Our Advantage
Persistent research and development,
not bound by departments
We have adopted a system encouraging open communication between manufacturing, technology, and sales. Our sales representatives share recent customer feedback with manufacturing and engineering personnel to ensure they can lead to optimal development using small testing equipment and production facilities in each subsequent phase. By setting up direct reviews with the customer during the development stage, we can ensure that customer requests are not omitted, and that development is tenacious, giving shape to customer requirements and realizing them. Also, by establishing strict regulations for all processes, from selecting resins as raw materials and choice of equipment to raw film production, commercial processing, and packaging, we provide safety and security as well as quality.
Main research and development operations
Product development

Improvement of existing products

Customer support

Equipment management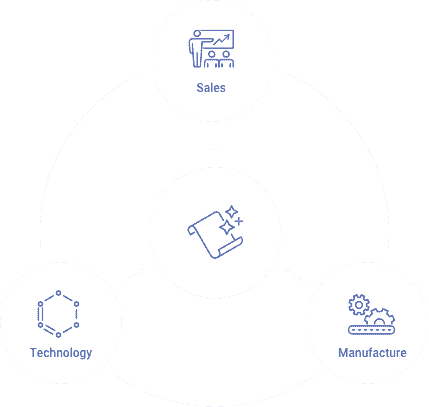 Product development flow
Input requirements and functional information
Development
study
Development
application
Development
efforts
Output
Internal
productivity check
Validation
Productization
New materials evaluation flow
Acquire new raw
materials data
Basic research
prototype
Design and development planning
Development
Internal productivity
check
Customer proposals
and evaluations
Productization
Proprietary multilayer technology and reliable manufacturing technology
The ethos of manufacturing
create high quality
We will continue to create peerless films by pursuing uncompromising quality with a relentless spirit of inquiry using our multilayer and reliable membrane technologies.
Our Advantage
Co-extruded multilayer film manufacturing technology
Co-extruded multilayer films are films produced by a composite molding process that simultaneously extrudes

thermoplastic resin from multiple extruders, passes it through a single die, and laminates the inner and outer molten resin in a single process.
Co-extruded multilayer film

water-cooling blown film extrusion

In the water-cooling blown film extrusion, cooling water is used to cool and solidify the resin all at once, suppressing the crystallization of the resin, resulting in flexible, highly transparent films as products with excellent toughness, visibility of contents, and gloss. The film is extruded in a tubular form, so the inner surface is not exposed to the outside air. This results in extremely hygienic and clean specifications and achieves high-quality films that can be used for food products and in the electronics and medical fields.

Co-extruded multilayer

air-cooling blown film extrusion

The air-cooling blown film extrusion uses air to gradually cool and solidify the resin, accelerating crystallization, resulting in films with excellent toughness and low surface frictional resistance, even with a relatively low-density resin design. The film is extruded in a tubular form, so the inner surface is not exposed to the outside air. This produces extremely hygienic and clean specifications and high-quality films for the electronics, automotive, and medical fields. We can form tubular raw materials with film widths ranging from 50 mm to 1500 mm and produce bags and sheets in a wide variety of sizes, both large and small.

T-die extrusion

The resin is extruded in a tubular form in the blown film extrusion method described above. In the T-die extrusion, the resin is extruded in a sheet form. It has advantages over tubular products, such as simpler mold design and superior thickness control. Ensuring foreign matter control on the inner surface is crucial in the production environment due to its sheet form.

Corrugated plastic cardboard

At the foundation of Shikoku Kakoh lies a unique advantage that sets us apart from other companies - our exclusive plastic corrugated cardboard. It is a replica of plastic cardboard featuring a corrugated core and flat liner, just like the original paper version. It does not lose strength significantly due to moisture absorption, a weakness of paper, and the product offers durability and cost performance while avoiding being a single-use product. It is widely used for many purposes regardless of the field, such as cushioning for metal rolls and protection for seedlings.
Our Advantage
Bag-making technology to meet various requirements
Shikoku Kakoh can manufacture wide three-layer blown films up to 1500 mm in width. We also handle various kinds of special
processing, such as bottom sealing, three-sided sealing bags, triangular bags, gusset processing, special shapes, and special sealing. We can meet a variety of requests based on our years of extensive knowledge and experience.
Bottom sealing bags

Three-sided sealing bags

Triangular bags/

Pastry bags

Perforated bags

Sealed bags with vent

Gusset bags

Label seal bags

Side sealing bags

Tube/sheet raw materials
Technology/Development02
Creating highly clean
environments to meet the demands of the medical, electronics, and food industries
Our highly clean environments
realize high quality
Shikoku Kakoh has clean environments for various fields. Our products are designed to meet the cleanliness requirements of fields such as electronics, industry, medical care, and food. Shikoku Kakoh carries out daily operations and maintenance as the cornerstone of our high-quality film products.
Our Advantage
Control of cleanliness
up to the equivalent of ISO Class 5
We achieve the highest level of cleanliness, equivalent to ISO Class 5, by controlling the cleanliness of each zone according to its specific field. We regularly monitor to ensure compliance with necessary cleanliness standards and to maintain a clean film production environment.
Cleanliness maintenance management efforts (examples)
Hygiene management

with clean booths

No personal belongings allowed

Secondary change of clothes

Hand-washing

Roller cleaning

Air showers

Wearing clean gloves

Makeup prohibited in principle

Cleanliness

measurement

HEPA filter management

Positive pressure management

Insect control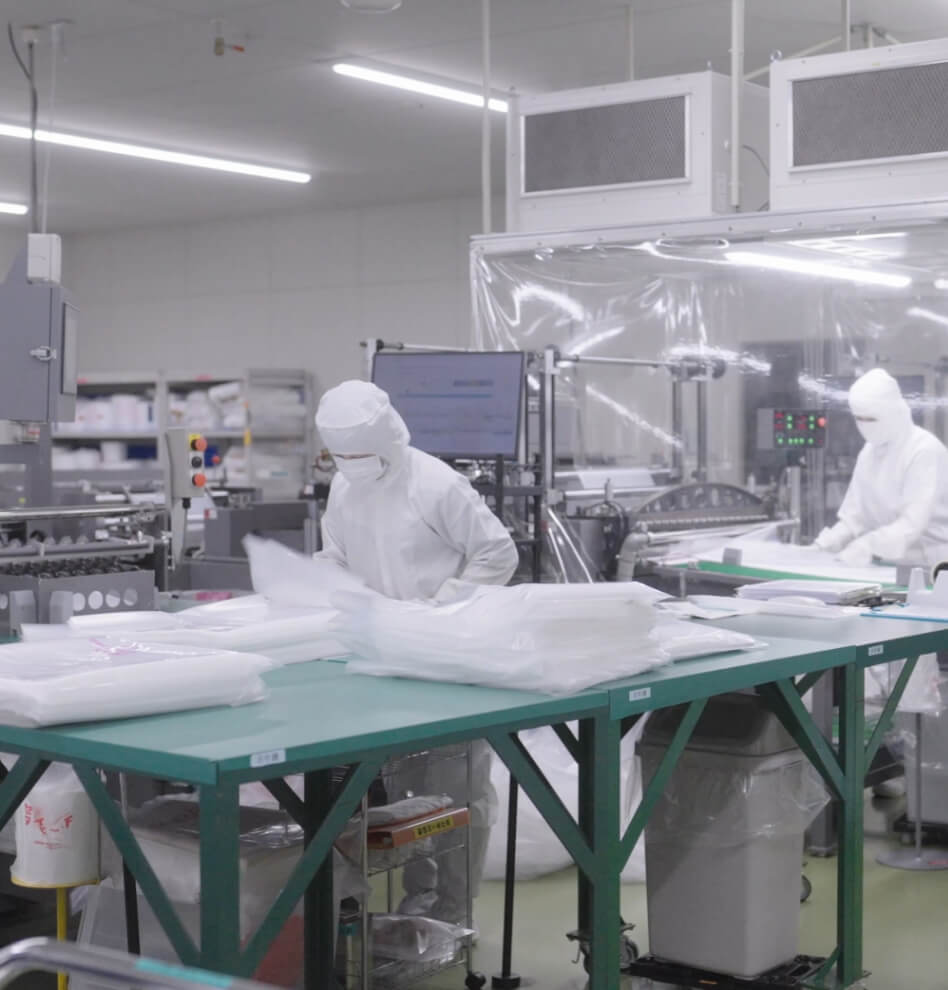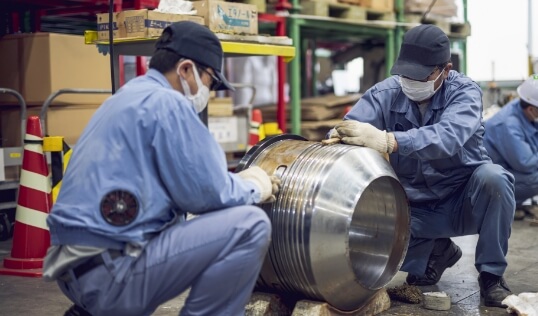 Technology/Development03
Approaches from the equipment
side, the cornerstones of clean films
Protect, hone, and evolve manufacturing equipment that plays a fundamental role in manufacturing.
In addition to resin quality, production environment control, and worker skill, the stability of production facilities is essential for producing high-quality films. At Shikoku Kakoh, we are constantly striving to balance pursuing productivity and assuring safety. We continue to take on the challenge of repeatedly improving our equipment in a way only a resin processing manufacturer can by leveraging our know-how. We can also perform more detailed and predictive maintenance by cleaning the molds ourselves. To prevent after-the-fact responses, we carry out systematic and proactive interventions with our facilities to ensure stability in skilled manufacturing.
Our Advantage
Beautifully polished at the end of each manufacturing run for high-quality production
The equipment used in production is polished beautifully after each manufacturing run to ensure that it will again deliver high quality production in the next run. The thorough disassembling and cleaning process reduces not only foreign substances specific to resin processing, called visible gel and fisheyes, but also invisible foreign substances. Only a few companies perform frequent cleaning in-house, and we believe this to be one of our strengths.