Based on our management principles, we will co-create
the value needed in this new era with our stakeholders, and contribute to society's sustainable growth.
Policy and basic concept
In March 2022, the Moriroku Group formulated its Sustainability Policy.

The Moriroku Group Sustainability Policy is a commitment to the role the Moriroku Group should play in realizing a sustainable society. Shikoku Kakoh, is committed to becoming a company that is increasingly counted on and sought after by all stakeholders by engaging in business activities that consider all stakeholders and by contributing to resolving social issues.
The Sustainability Policy of the Moriroku Group
As a member of the Moriroku Group, Shikoku Kakoh, aims to realize a sustainable society by reducing our environmental

impact through our business and contributing to the local community.
Shikoku Kakoh's contributions to the SDGs as a member of a sustainable society
Shikoku Kakoh will contribute to developing a sustainable society through its business activities,

and strive to realize a future in which people can coexist harmoniously with the global environment.

Promoting greening in Japan and overseas by expanding sales of seedling sheets

Reducing CO2 emissions by developing and expanding sales of thin, high-strength film

Promoting recycling by converting waste plastic into pellets and using recycled pellets in products

Reducing food loss through product development that leads to longer expiration dates

Installing solar power generation systems

Administering various health checks and vaccinations

Implementing traffic safety patrols

Promoting women's participation

Implementing no-overtime days

Conducting stress checks

Providing compliance education

Providing job level-specific education and training within departments
Our commitment to sustainability through business
Shikoku Kakoh will support people's quality of life by contributing
to developing a sustainable society through its business activities.
Environmental initiatives

With considerate action as our main theme, we aim to be an environmentally

conscious company that cares about people and nature.

Quality initiatives

Based on our main theme of skilled manufacturing from the customer's point of view,

we aim to continue to provide products and services that exceed customer expectations.

Health and safety initiatives

As a people-oriented company, we are committed to promoting health and

safety to ensure the well-being of all workers in both body and mind.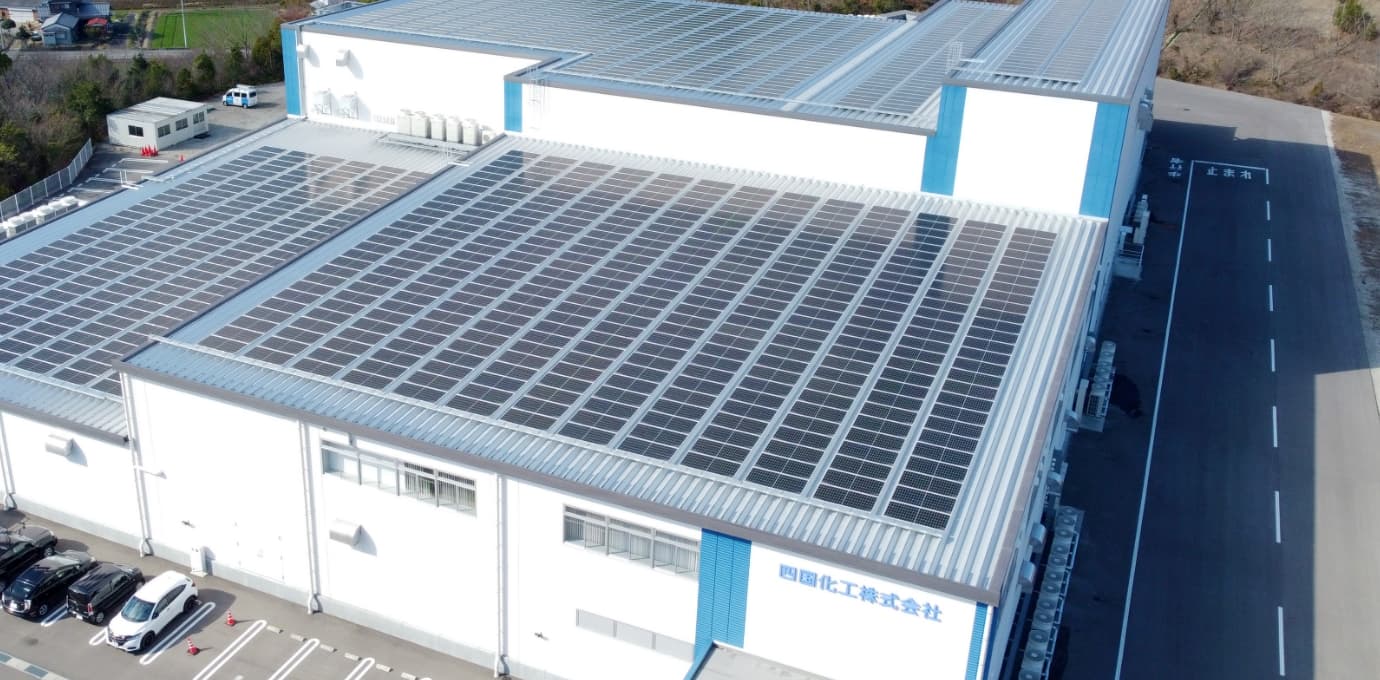 On February 1, 2023, the Nishiyama 1st Plant began operating a solar power generation system. Going forward, we will continue to develop various measures to reduce CO2 emissions. We are also planning to
develop, manufacture, and market environmentally friendly products to contribute to the use of biomass plastics and to extend the shelf life period to reduce food waste.